Balance lever crane
Small folded arm Balance Crane is a new type of mechanical Lifting Equipment. When it is working, the hanging object can be stably located at any position in the working area at any time. The PJ series balance crane is suitable for high workpieces of several tens to hundreds of kilograms. Efficient lifting and more accurate positioning and installation. Widely used in the upper and lower parts of the machine tool; the middle part of the assembly and repair process between the lifting of the transport. Foundry's lower core, box etc.
This small Jib Crane is especially suitable for medium and small batches of multi-variety production occasions, cutting and flow of special plane on-line. It is more accurate and intuitive than cranes, electric hoists, simpler and more flexible than robots, and versatile.
advantages
small size, light weight, low noise, novel and compact structure, safe and reliable use, simple and convenient maintenance and the like. It is a kind of new type of machinery that is more ideal to liberate the manual labor that the operating workers frequently load and unload. At present, it has been widely used in automobile manufacturing, tractor production and various machinery manufacturing industries.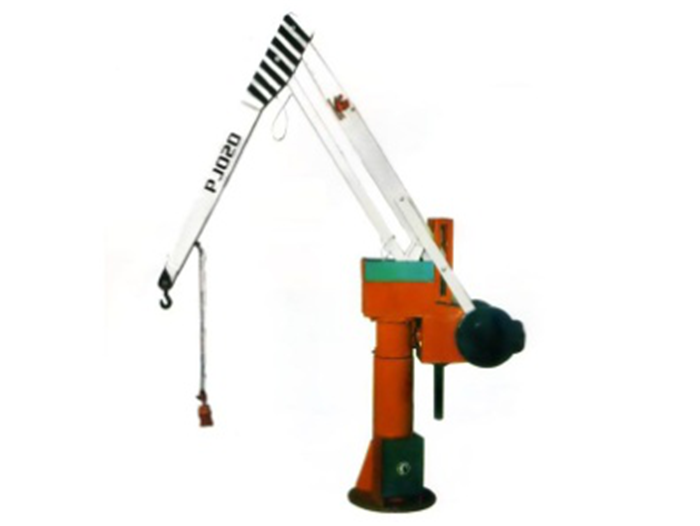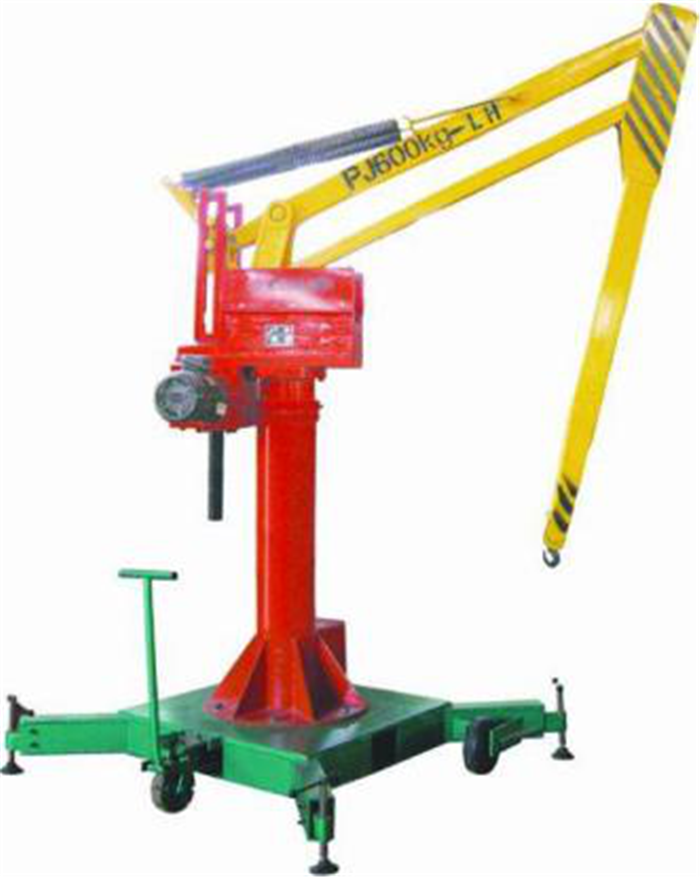 Main Technical Data of balance crane:
| | | | | | | | |
| --- | --- | --- | --- | --- | --- | --- | --- |
| Type | PJ005 | PJ010 | PJ020 | PJ030 | PJ040 | PJ050 | PJ060 |
| Max lifting weight(kg) | 50 | 100 | 200 | 300 | 400 | 500 | 600 |
| Max lifting height(mm) | 2000 | 2000 | 2000 | 2000 | 2000 | 2500 | 2500 |
| Starting level(mm) | 500 | 500 | 500 | 500 | 500 | 500 | 500 |
| Lifting range(mm) | 1500 | 1500 | 1500 | 1500 | 1500 | 2000 | 2000 |
| Max swing radius(mm) | 2500 | 2500 | 2500 | 2500 | 2500 | 3200 | 3200 |
| Min swing radius(mm) | 580 | 580 | 770 | 770 | 770 | 1000 | 1000 |
| Level amplitude(mm) | 1920 | 1920 | 1730 | 1730 | 1730 | 2200 | 2200 |
| Turn angle(0°) | 345 | 345 | 345 | 345 | 345 | 345 | 345 |
| Lifting speed(m/min) | 6.14 | 6.14 | 5.44 | 5.52 | 5.56 | 5.08 | 5.08 |
Detailed information:

Packing information