High quality electric hydraulic brake drum used for winch are widely used in lifting, metallurgy, mining, ports, docks, construction machinery and other industries. This brake has the characteristics of safe and reliable, smooth braking, high frequency of action. High Transmission efficiency, long life, no need lubrication during use.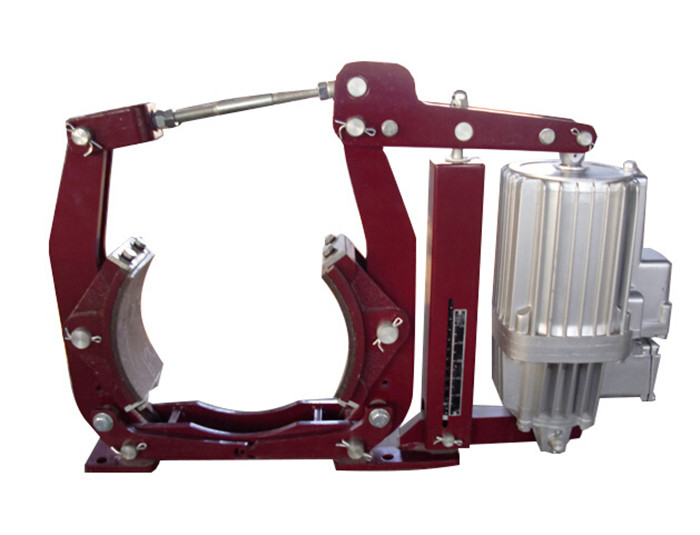 YWZ series DC brake Rr are mainly used in hoisting, transportation, metallurgy, mines, ports, and civil construction as brake gears of various machines. The connection dimension and brake torque meet the requirement of JB/ZQ4388-1977. Technical conditions meet JB6406.2-2006. They take Ed series electro-hydraulic thruster introduced from Germany EMG Company as their driving units, which are featured with:
1).Excellent action performance, good seal performance and high protection class of outer covering.
2).The linings have taken form by means of die casting, which are easy and quick to replace, and have long service hand high-usage.
3).The main oscillating joints have the self-lubrication bearing and oil filler point. The transmission of brake frame is efficient. The action is sensitive and reliable. The service life is long.
4).Realize some additional functions by adding additional device.
Operation environment
1). Ambient temperature: -25C --- + 45C
2). Working environment must be free of combustible, explosive and corrosive gas.
3). Air relative humidity :<=90%.
4). Sea level altitude for application accords with GB755-2000 standard.
Main feature
1).Main swaying hinged points are equipped with self lubricated bearings with high efficiency of transmission and long service life.
2).Brake torque is shown directly.
3)Manual release is equipped which is convenient for maintenance.
4)Automatic compensation device can realize the automatic compensation when the brake linings are worn.
5)The interlocking equal clearance device can avoid adherence of the brake lining on the brake drum.
Product show