Mobile Scissor Lift is known as mobile Hydraulic Scissor lift platform, SKY mobile Lift Platform, mobile hydraulic Man Lift, hydraulic lift machine, hydraulic man lift, hydraulic Lift Table, and hydraulic table lifting mechanism; used in plant, hotel, airport, station, warehouse, dock, stadium for the high-altitude equipment installation, maintaining and cleaning the field of power facilities, over head pipes, and other lifting efficiency ideal equipment, order-at-height safety, convenience and fast.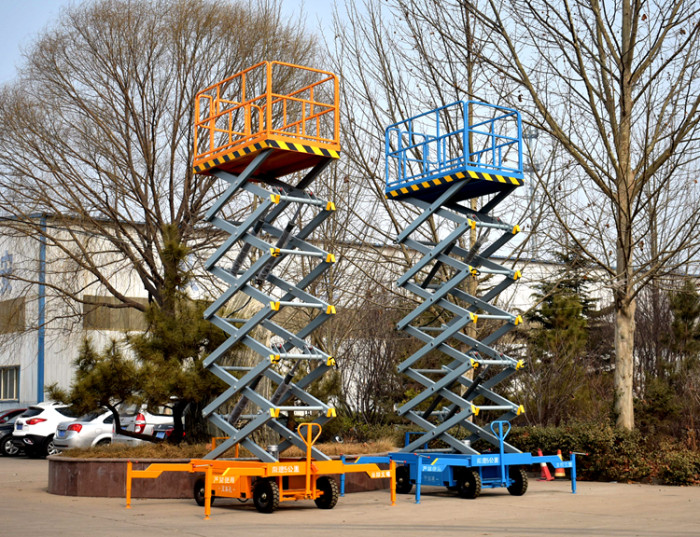 Features:
1.Scissor hydraulic lift is the professional high-altitude operation equipment.
2. Its scissor mechanical structure makes the lifting platform lift more stably.Wide working platform and large loading capacity can make the work scope bigger.It`s suitable for several people working together.
3.Lifting height: 4m ,6m, 8m,10m ,11m and so on. And the max height of the scissor lift is 18m.
4. Loading capacity: 300kg,500kg,800kg,1000kg and so on.
Specification:
| | | | | | |
| --- | --- | --- | --- | --- | --- |
| Item No. | platform size(mm) | capacity(KG) | Net height(m) | Overall Dimension(mm) | Dead weight(kg) |
| SJY0.3-6 | 1700*1060 | 300 | 6 | 1820*1300*1280 | 750 |
| SJY0.3-8 | 1700*1060 | 300 | 8 | 1820*1300*1460 | 850 |
| SJY0.3-10 | 1920*1250 | 300 | 10 | 2040*1450*1660 | 1300 |
| SJY0.3-12 | 2370*1300 | 300 | 12 | 2510*1550*1980 | 1620 |
| SJY0.3-14 | 2400*1450 | 300 | 14 | 2510*1550*2000 | 1800 |
| SJY0.3-16 | 2550*1450 | 300 | 16 | 2700*1850*2130 | 2800 |
| SJY0.5-4 | 2100*830 | 500 | 4 | 2250*950*1100 | 800 |
| SJY0.5-6 | 2100*830 | 500 | 6 | 2250*950*1200 | 880 |
| SJY0.5-7 | 2100*830 | 500 | 6.8 | 2250*950*1280 | 970 |
| SJY0.5-8 | 2100*830 | 500 | 8 | 2250*950*1380 | 1050 |
| SJY0.5-9 | 2100*930 | 500 | 9 | 2250*1060*1500 | 1165 |
| SJY0.5-10 | 2100*930 | 500 | 10 | 2250*1060*1530 | 1360 |
| SJY0.5-11 | 2100*930 | 500 | 11 | 2250*1350*1650 | 1400 |
| SJY0.5-12 | 2550*1530 | 500 | 12 | 2796*1670*1750 | 2260 |
| SJY0.5-14 | 2812*1530 | 500 | 14 | 3067*1730*1810 | 2486 |
| SJY0.5-16 | 2812*1600 | 500 | 16 | 3067*1810*2080 | 3063 |
| SJY0.5-18 | 3070*1600 | 500 | 18 | 3321*1810*2080 | 3900 |
| SJY1.0-4 | 2100*1200 | 1000 | 4 | 2250*1350*1180 | 1250 |
| SJY1.0-6 | 2100*1200 | 1000 | 6 | 2250*1350*1300 | 1400 |
| SJY1.0-8 | 1940*1300 | 1000 | 8 | 2400*1500*1980 | 1400 |
| SJY1.0-10 | 1940*1300 | 1000 | 10 | 2060*1500*1980 | 1500 |
| SJY1.0-12 | 2400*1450 | 1000 | 12 | 2530*1650*2000 | 2200 |
| SJY1.0-14 | 2812*1600 | 1000 | 14 | 3067*1810*1900 | 3230 |
| SJY1.5-6 | 2100*1530 | 1500 | 6 | 2250*1750*1530 | 1780 |
| SJY1.5-8 | 2100*1530 | 1500 | 8 | 2250*1750*1690 | 2070 |
| SJY1.5-10 | 2100*1530 | 1500 | 10 | 2250*1750*1850 | 2250 |
| SJY1.5-12 | 2550*1530 | 1500 | 12 | 2796*1762*1850 | 2900 |
| SJY1.5-14 | 2816*1600 | 1500 | 14 | 3045*1852*1960 | 3400 |
| SJY2.0-6 | 2100*1530 | 2000 | 6 | 2250*1750*1530 | 1780 |
| SJY2.0-8 | 2100*1530 | 2000 | 8 | 2250*1750*1690 | 2070 |
| SJY2.0-10 | 2100*1530 | 2000 | 10 | 2250*1750*1850 | 2250 |
| SJY2.0-12 | 2550*1600 | 2000 | 12 | 2796*1852*1954 | 3200 |
| SJY2.0-14 | 2816*1600 | 2000 | 14 | 3067*1852*2230 | 3900 |
Detailed images: